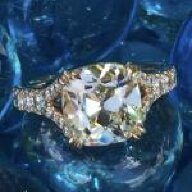 Joined

Jan 30, 2016
Messages

149
Hey PriceScopers,
Little background about me...I discovered PS about a month ago on a quest to ensure I upgraded my current modified brilliant cut cushion G/SI2/1.52 carat with the best performing, decent quality 1.8/2 carat modified brilliant cushion. In my poking around, I noticed the thread "Show me your AVC/AVOEC diamonds" and wondered, "what is an AVC...?" ONLY TO LOSE MY MIND!



Long story short, my amazing hubby and I booked a flight from sunny south Florida to NYC for this past weekend (we have a daughter who just moved to NYC for her first job - so good excuse to visit too), rented a car and drove out to Long Island to
GOG
! And OH WHAT A GREAT DAY IT WAS! Hubby had only gotten to know Jonathan from his voice and a few dozen "LOOK AT THIS!" turns of my computer as I watched 100's of Jon's videos over the last few weeks, but when he - Jonathan himself - came out of the back and literally spent about 4.5 hours with us, even my husband was intrigued, at ease, enjoying and trusting the whole process/afternoon.
Jon showed me an array of cushions in colors from D through K, as I was interested in learning how warm of an AVC I would enjoy....I learned I want to stay within the H - I range, J at the lowest.
GOG
's 2 carat stock in this color range is limited, so we are going to head down the custom cut road and I couldn't be more excited about the entire process!
So now, I am waiting for Jon to get back to me about a few details (hello, Jonathan?...

)
Among any unsolicited advice that I cannot even conceive of asking my new PS friends, I do have a question (kind of a new paranoia

) I absolutely LOVE my ring setting that my eventual new AVC will go in. It is a platinum Varna setting. However, when I brought it into a jeweler down here in FL and then when Jonathan saw it, they both said "the prongs are huge!" When I asked him, Jon said my new 2 (+

) carat diamond, with the higher crown will minimize the "large prong look" (mind you, those huge prongs didn't really bother me until these 2 back to back reactions

yikes!). Something else to note, while I was sitting at the store, one of the sales people was selling Michael M engagement rings to another customer and she said coincidently said, "that setting has the large chunky prongs, which are really the style right now." My ring is 7 years old, so perhaps I am way ahead of myself???
So I was wondering if anyone had heard of this trend? And I am wondering if I should consider getting the tips of the prongs revised and then who would do that? Or am I just being insecure now? UGH

Nonetheless, here are pics of my setting with the current diamond: