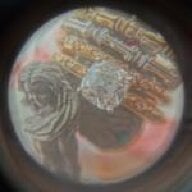 Joined

May 19, 2014
Messages

1,303
This is a crazy flight of fancy wedding set. My husband is a lovely man for supporting this superfluous creative endeavor, and I feel humbled and fortunate to have experienced this in my life. Through 16 years and 5 kids it has been a colorful and rich life together and I am grateful for all of it.
First was the diamond. I shopped antique Old Europeans and GOG AVR's and this 8.1mm, 2.12 I VS1 just hit everything for me. All my sweet spots. I love it. The facet pattern, the size, the crown, I melt. In real life I find it interesting and beautiful. The flower petals and facets are all individually lively and play and dance and reflect to my delight. My hat's off to the artisan diamond crafter and cutter, she is a lovely.
GOG, most especially David, was ever so patient with me. I hemmed and hawed. After video and deliberation, I bought it. Then, after consulting others, I reneged, returned her. Afterwards, I came to my senses and just went with what *I* loved, and didn't worry about what others thought. I bought it again. Yay. I'm so glad. The facet pattern of the diamond reminded me of the sun motif in Disney's 'Tangled'; that imagery made me feel the warmth of the 'I' color would be lovely. Lynda from GOG was also super helpful, and Darren as well. After I bought the diamond the second time, I found a thread by Diamondseeker 2006 where she had this very diamond and almost bought it- it was amazing to read through all these pages of analysis on my diamond- crazy! It was all nice things, and made me feel so good about this huge purchase.
I've had the set for a month but had family visiting so have not posted about it- I have taken a lot of photos, though, and have pretty much been preoccupied with admiring it… and have been teased mercilessly by my family for all my 'ring selfies'- hilarious! Oh well, I gotta laugh at myself, and, it quickly got me to the point of 'to heck with 'em all' I'll wear my diamonds if I want, lol. To my delight Grace told me they are called 'blingfies' on Instagram- I can't wait to get teased again and correct the teasers' terminology, lol.