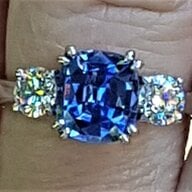 Joined

Apr 5, 2012
Messages

977
Just when I thought my collection was complete, my interest was piqued by a gorgeous ring I saw by chance in an antique jewellery shop. I had long ago promised myself that having discovered the joys of buying well-priced loose diamonds online I would never pay a "retail" price for a ring in a shop window. But of course that doesn't stop me browsing jewellery shop windows everywhere I go, I love looking at all the beautiful things (even if some of them are quite over-priced or not always the quality I would look for).
So a couple of weeks ago I came across this ring in an antique jewellers window, being sold as en emerald cut diamond for a really good price. It was so bright and really stood out from the various others it was hiding in amongst. On closer inspection I noticed that it had square corners and an interesting facet pattern, and couldn't resist going inside to ask about it. It was being sold uncertified as a 1 carat centre diamond in a handmade platinum ring.
As soon as I put it on I was mesmerised, it has so much flash and movement, and a lot of fire, plus it looked a really substantial size on my (size 6.25) finger. I commented to the shop owner that for a 1 carat diamond it faced up quite large but he just put it down to the fact that "all emerald cuts face up large". I could see that this looked a lot more like a Tycoon Cut or french cut diamond than an emerald cut but he continued to insist it was an emerald cut. He explained how he had had the ring made himself in an antique style and had personally picked out the "princess cut" diamonds for the shoulders to compliment the centre stone. A quick look with a loupe confirmed that the shoulder diamonds are french cut, not princess cut so it seems that the shop owner is not as clued up about what he sells as he thinks, in spite of reassuring me of his expertise based on "30 years in the trade"
I was already considering breaking my "no shop bought rings" rule for this ring but then he offered me a substantial discount and that was the clincher. So I went against all of my usual precautions, and bought a finished ring with an uncertified diamond, without the benefit of a 30 day home inspection or ASET image from a vendor with questionable diamond knowledge and a slightly patronising attitude. And now its been sized and I have it home with me to subject to all my usual investigations and scrutiny it is one of the nicest rings in my collection.
In fact (whisper it) I think I may even prefer it to my new asscher, which was the culmination of years of searching for the perfect stone.
The best surprise of all was that when I was finally able to look at it with my loupe in the right lighting environment I discovered an inscription on the girdle!!! 2 in fact - a GIA number and the Tycoon brand and serial number

And having looked up the GIA certificate I discovered the diamond is a quarter of a carat larger than the jeweller thought, its a 1.27ct, G VS2!

Anyway, on to the important part - here are a couple of pics of my new treasure: