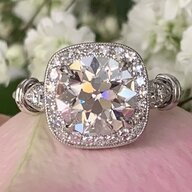 Joined

Jan 11, 2006
Messages

55,116
arkieb1|1442808741|3930080 said:

I think you should keep the existing AVR it's a stunning stone!!! Not all AVRs are created equal, yours is a one of a kind.... Put it into a simple Antique looking 8 prong. Buy a smaller stone from Victor that is whiter or wait and get a top performing whiter H & A tranny or OEC from Erica or Grace and put it into your Van C. ring and hey presto you have two stunning rings you can leave to your daughters.
Thank you, Arkie. My one concern is that I, too, think this AVR is an exceptional stone. The cut is beautiful and it has good spread for an OEC style cut. (Ironically, the setting design I have for the stone is antique 8 prong!) If I let the stone go, I could never replicate this particular one as opposed to H&A stones. I have no problem with the idea of getting an OEC or tranny for the VanC setting and I have had my eyes open for those, too. I wish I could just go to NY and try a bunch of diamonds on, but I don't know when I'd have time.
This is why I have a problem. The things that attracted me to this diamond in the first place (including the cutter), are the reasons it is scary to let it go. But MGR has some good points, too.