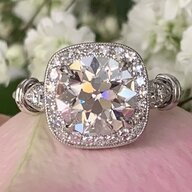 Joined

Jan 11, 2006
Messages

55,105
Many of you have followed my quest to choose an AVR (August Vintage Round/newly cut OEC) from Good Old Gold over the last few months and particularly the last couple of months when I started out with a 2.11 I VS1 and then decided to try out a 2.29 I VS1! Something inexplicable happened to me because I had always been size sensitive. At first, it was a leap to look over 2 cts, and then I quickly went from 2.1 to considering 2.3!

But all of a sudden after wearing the 2.29 for less than a week, I decided it not only wasn't too big for me, but I also thought maybe they had set the 2.11 by mistake because it just looked smaller to me once it was set!

(sorry for the long sentence!) Of course, seeing all the mega-bling in Las Vegas probably helped my perception, too!!!
So, I have decided to keep this very gorgeous stone!!!

Here are the specs: 2.29 cts, I VS1, 8.4mm, table 45, meets AGS ideal cut specs, and perfectly cut by master cutter Yoram/DiamGem!
I have to thank Jonathan from Good Old Gold for TRULY having infinite patience AND going above and beyond to see that I got what I really wanted!

Seven years and 4 diamonds, later (two of which I still have and wear), I am blessed to call him friend as well as a very trusted jeweler with an awesome selection of well cut diamonds!!! I got to meet him in person in Las Vegas just a few days after receiving the ring, and that was just icing on the cake!!! And thanks to his great staff, too!!!

So, I have a few pictures taken at home, and then all the rest were taken on our long weekend in the mountains this past weekend (and there'll be another thread here in the next couple of days about the shopping trip that mom2boys and I had!!!)
Oh, and "take 1" is because the stone is currently set in my Vatche U-113 Tiffany repro for the time being. I hope to eventually set it in an antique style setting if I can ever decide on one! I am just happy to be able to wear and enjoy it in the meantime!
Additional photos on page Four.