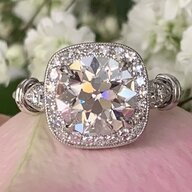 Joined

Jan 11, 2006
Messages

55,116
apacherose|1437333185|3904886 said:

Hey DS! I am so excited for you, it is great to be able to get all this input from ps-ers!!!

What did your daughter say?

I love the solitaire you posted

And did I read Caysie suggested 8 prongs a la Edwardian? Well... that would be completely stunning- I love the 8 prongs, or octagonal halo's with these OEC cuts- it is just harmonious. Has Caysie drawn you an idea for an 8 prong solitaire?

I think that seems to just be more perfect for you for your AVR- I can't wait to see what you come up with!!!!
I just mentioned you and then you found the thread!

I am going to try and emulate your rings!

That is the only way I can resolve things is to get the AVR set by Caysie and a smaller AVR or AVC in VanC!
Yes, she likes the 8 prongs and I do think that would be beautiful. I have pics of several antique settings in that style (6-8 prongs), and we'd have to narrow down the details if I go in that direction. I love OECs in the Casablanca...it gives it a frame like your SB setting does. In that respect, you chose the better stone for the halo. I think I am torn because I like the idea of the Casablanca more, but I think the Edwardian solitaires would be more practical for me for daily wear with the size stone I have.
Here are some of the profiles I have saved including the one you recommended...