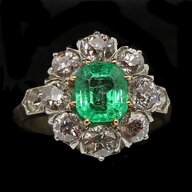 Joined

Jun 1, 2020
Messages

230
Those moonstones are very, very, nice ones. I'd also like to see many more pictures.
I think you're the lucky owner of a truly unique ring.
That ring will never be put in a cardboard box again!
Thank you, kind stranger! And my profound thanks to everyone else as well for complimenting the moonstones. They are lovely, aren't they? I've never seen moonstones of this quality in person before; all my moonstone jewelry is new age-y mass-produced stuff, which is pretty in its own right, but which does not give you the truth of how moonstones can really glow. It took hundreds of hours scouring the Internet to find this ring. I feel like I lucked out finding it, and I am thrilled to finally have it! I'll post more photos once it gets home from the jeweler's. Can't wait to see my pretty again!
And I couldn't agree more about the cardboard box!
I'll be like Joan Crawford, except my thing will be jewelry presentation rather than clothing storage.