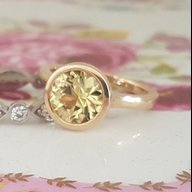 Joined

Nov 22, 2010
Messages

60
Ok, I just picked up my earrings. Here are a few more pictures and my thoughts.

Color: they are definitely G/H. My 5-stone OEC diamond ring is H/I colored. The center stone is GIA I color. The moissys are very comparable in color, although they lack a bit of the steeliness and depth of diamonds.

Here are a couple of close ups. The moissys have a very pretty pattern under the table. But table is a bit too large for an OEC (IMO). I also wish I got smaller 5mm stones, so more of the rose gold "petal" setting could be seen.

On ear picture. It's impossible to get a good picture, so I gave up after 15 mins. This is the best of all the bad ones, lol.

Overall I'm very happy with them. They are definitely very pretty and sparkly.
I love these!!
Thanks for the pictures! Now enjoy wearing them