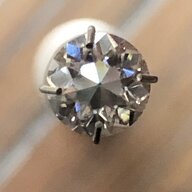 Joined

Jan 24, 2019
Messages

470
Hey all,
As promised I am starting a thread for Mona Hu who used to work with Starsgem (which a few of you have worked with). Currently she doesn't have a website or Alibaba page. To order from her you will need to message her from Instagram or her personal WhatsApp (+86 189 7740 5119). I haven't ordered from Starsgem ever, but I decided to take a chance with her after reading some reviews on the Starsgem thread. I messaged her through Instagram (while she was on break during Chinese New Year) and decided I wanted to purchase two stones: a 6.5 mm colorless (DEF) Hearts and Arrows and a 5.5mm near colorless (GH) OEC. I figured these would be safe bets, plus I wanted to see how much I'd like the OEC and a 5.5 mm size.
There were some issues initially. For starters, Mona wasn't able to take payments after the Chinese New Year as her PayPal account was frozen so my order was on hold for about a week. Secondly, I asked her to customize my H&A and gave her a photo of what I wanted it to look like...I used a picture of a H&A under a loupe which showed clearly defined arrows. Unfortunately, her cutters had a hard time replicating this. After about 5 days, Mona told me that the H&A had to be redone because the cutters used the wrong design, although my OEC was already finished. About 3 days later, the stone was finished. She sent me a photo of it and honestly, I was a bit underwhelmed. It looked like they tried to replicate the photo I gave them, but the arrows still came out thin. Also, I was still riding a high after getting my AV Ideal Round, so maybe my expectations were high. Argh. Anyway at that point I just wanted the stones so I told her they were fine and she could ship. I figure I could at least sell the H&A if I really didn't like it.
She sent them out last weekend through her shipper and it was picked up by DHL on Wednesday. Surprisingly, I got them today! I'll try to take better photos tomorrow because I didn't have enough good lighting, but here are a couple pics. All these are taken indoors with different lighting
H&A:
Interestingly, I actually liked this better than I thought. Granted, it's not a true H&A; i kinda want to say it looks like a cross between a Round Brilliant and Hearts and Arrows. After seeing this, I might end up giving it to my mom after all, which was the main reason I bought it. She's always liked my Indian moissy pendant and this one is just a bit better: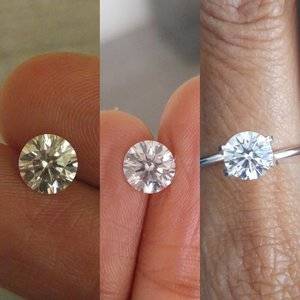 OEC:
Okay, I was
mildly
disappointed with this one. I thought I would like this one better than the H&A, too. Mostly because it isn't near colorless like I expected it to be...it's colorless.
I love colorless, don't get me wrong, but I prefer colorless for modern cuts. Otherwise I prefer near colorless for antique cuts.
I did a white paper test for both moissys and they are white. Argh. On the upside, I paid a slightly cheaper fee for a colorless stone, so I guess that's nice? Here's how it looks; I know it looks warm in one pic, but it's due to the lighting: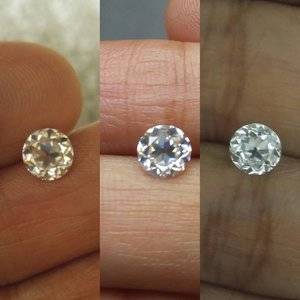 Other than that the cut is fine, although I know it's not up there like AV. Anyway, that's not a problem...I'm actually really loving the OEC now and this definitely makes me want to get a bigger OEC!
Again, I'll try to take more photos tomorrow.
Overall, I'd say the experience was not bad. Mona is a super lovely person to deal with, but she still needs practice with managing her business. I think I'm going to hold off with getting ring projects done with her until she gets the hang of managing and whatnot.
Hope this helps! And hopefully others can post their own experiences, too!