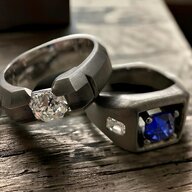 Joined

Dec 23, 2019
Messages

376
Your collection is stunning

@Dr_Diesel

! I predict it's going to become a lot harder to make jewelry choices in the morning. I've always admired CvB's work but who knew she had such a range?
Ah yes, CvB is incredible! We spoke a couple of weeks ago and she asked "why did you want me to do this? You style is totally different from mine?" My response was "It's not about your style… But rather about how you attend to detail."
Our styles really are very different… And she loves it! "This pushes me outside of my comfort zone and keeps me growing." I think she got just as excited as I did over these projects!
She also offered "I love men's jewelry… I just don't do it often because well, I'm not a guy…and most on my clients are women."
I absolutely adore working with her. Looking forward to many collaborations in the future!
And yes, it seems that there is nothing that this woman cannot do. I've worked with a lot of jewelers and designers over the past 25 years and cannot say I've ever seen finer work.
I've said it before and I'll say it again, she is one of the few true artisans left in this world!
I am an ardent supporter of what she does and how she does it!
AND…all you guys out there, the secret is out! CvB absolutely ROCKs men's jewelry!
(Pssst!!! …and she wants to do more!!!)
Just sayin'
Last edited: