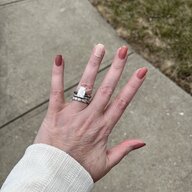 Joined

Apr 7, 2017
Messages

5,022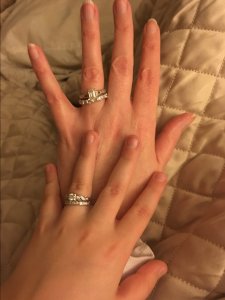 Mannn! Came here for a little pick-me-up and I can NEVER get tired of that magnificent fire and sparkle of your step cuts! How do you not just stand in a mirror all day looking at those rings?!! Thanks for the new collage

As my grandma would say: "She (your solitaire) is really showing out today!"
FeFeV,
Your words are a real pick me up, for me!! It's great to share the love of step cuts with so many, here on PS! They (step-cut stones) have been my favorites for decades! I inherited round brilliant diamond rings from other lucky ladies in my family, but they just aren't "me". They were most definitely "them", during their time. I admired my grandmother's set as a child, but I believe it was more the style of the settings than the stones that influenced me (her set is Art Deco/Vintage). She was my most favorite person on Earth, and she remains so, even though she passed 8 years ago. I was so proud to wear that set on my right pinkie finger on my wedding day; it was as though she was right there with me, the whole time.
Your grandmother sounds very wise, and amazing, as well. Sounds like she, too, appreciates(d) fine jewelry.
One "high-maintenance diamond queen" begets another, I suppose...lol!!!
My brother & I called her "Mama Cooke"; her married name was Cooke. She called my Grandfather "Cookie"...Cook-E. Ironically, while I was pregnant with my daughter, she was called "Cookie" (baking a cookie on the oven) by a close friend of mine, and it stuck; it's her nick name. I believe I will name my GM's set "Cookie".
I attached a photo of my hand & my daughter's hand together; I'm wearing my set & she is wearing my GM's set. Her hands are still too small for the rings to fit her, but someday, they will belong to her.
I love your band. She really sparkles!! I hope you will find a clever way of "naming" her.