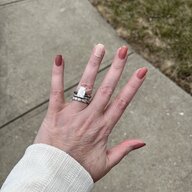 Joined

Apr 7, 2017
Messages

5,022
Good Morning, PSers!!!
After months of scrolling (and trolling), and drooling, and sharing, I finally decided to start my own thread to introduce my Engagement Ring (and my Wedding Band-after all, they ARE BFF's)!!
Recently, I posted a thread about how to "name" a diamond. After several hours of debate & discussion, I did some research & I came up with a name that suited my center ER diamond: Uisce
(Pronounced "Ish-ka" or "Oohsh-ka", depending on the dialect)
"Uisce" is Irish Gaelic for "Water".
Background Story:
My DH proposed to me, upon blended knee, on a bridge that overlooks a beautiful lake, in October. The water was clear & still, and it was a beautiful, sunny day. I couldn't have created a more picture perfect scene for a proposal, if I had tried.
When he opened the box, a gorgeous Emerald Cut Diamond stared back at me; clear and mesmerizing...just like the lake. She was absolutely stunning, and I had to close the box to concentrate on him, rather than the hypnotizing sparkler!
From that day on, I have always remembered that day, and how perfect the lake was; how clear & beautiful. Every day I look at my ring, I think how much she resembles the water, and it's mesmerizing qualities; smooth, clear & endless.
My DH & I share many heritages, but the one we chose to integrate into our wedding ceremony was our Celtic Heritage. Inscribed on the inside of our wedding bands (and written on the outside of our ceremonial programs) are the words "Buann gra' gach rud". Translated LITERALLY: "Love Wins Everything". Our slogan throughout our relationship has been "Love Conquers All". We face every obstacle & challenge head on, together, and that has only made us stronger & more united.
When carefully choosing a name for my beautiful, clear Emerald Cut, I decided to follow the Gaelic theme for her name: "Uisce"; "Water". Water is associated with so many other likenesses: fluidity, adaptability, and balance, which I believe defines who he & I are, as a couple. "Uisce" fits, perfectly.
Introduction
:
Without further ado, I am completely ecstatic to formally introduce you to
Uisce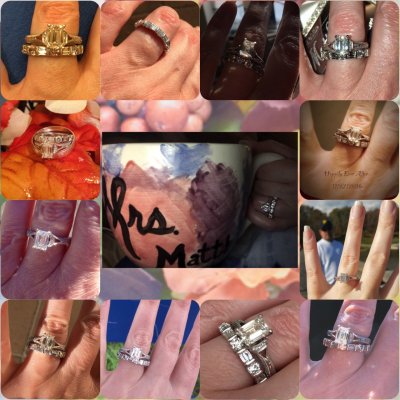 As you can imagine, choosing just ONE photo, or a "few" to share was painstakingly difficult, and I don't like photo clutter, so, I created a collage of SOME of my favorites of my beautiful Uisce.
Specifics
:
Emerald Cut Diamond
1.07ct
G color
SI2 Clarity
VG Cut/VG Symmetry
6.90 x 4.74 x 3.28mm
L x W ratio: 1.45:1
No Fluorescence
(Her certificate does not give me specs on her table, girdle, culet, etc. If an ASET exists, my DH never kept it-he's not a jewelry person *GASP*! lol!)
She is Cut very well, and faces up quite large. Her table is long & slender & creates a very still water effect. The facets sparkle magnificently, and she loses very little to no light for an EC. She dims & brightens in all the right places; her flashes are intense, and blinding. She has beautiful reflective qualities, just like the lake; she is quite impressive for her size.
I can share more details about her setting, mounting, and BFF wedding band upon request; this thread was created just for her.
I should mention that my DH & I did shop together for ideas for my ER, but he was the one who ultimately decided what to purchase.
He was also very involved in the selection of my wedding band.
Considering he is not familiar with jewelry, I think he did an AMAZING job!