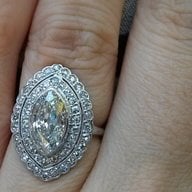 Joined

Jun 13, 2005
Messages

1,046
Hi everyone,
Thanks to those who have followed my journey and expressed interest in seeing the finished product.
To recap - I did my stone hunt this spring, found one in early summer, Victor finished the ring ~July and I've been wearing it since. I've put off showing it here as I wanted time to do "proper" photos - but that's never seeming to happen so we finally just took some this weekend and are going with that!
This dream upgrade project was made possible by a great stock pick of DH's that (finally) paid off. So thanks P for that!!
My original e-ring stone was a 1.5ct modern cushion from ERD. Although I worked with a number of great PS vendors to try to find my OEC (shoutout to Grace of JbEG, Adam at OWD, SingleStone and Jon at
GOG
), in the end it was Mark again at ERD who pulled the proverbial rabbit out of the hat (for awhile it felt like I'd *never* find something).
Anyways! And then it was onto
Victor Canera
, whom I cannot recommend highly enough!! Not only was he so lovely to work with as a person and vendor, but he really knows his stuff, technically and artistically. The final product was delivered on time (pretty quick to boot!), and I found his pricing very reasonable, considering it's all custom and 100% hand-made & casting-free. I am a convert!!
So - forgive us for the pics, they did not turn out as nice as we'd hoped, we may do more later, but for now we are just too busy.
I am *loving* this ring. It's sparkly and gorgeous, and I love having an antique stone!
Oh, the stone stats for those interested:
3.92 ct
I SI2 (GIA)
~9.4mm x ~9.9mm
Shape: Roundish / cushion-y
Although "eye clean" to most people at 12", I can usually spot the white crystal inclusion under the table. Personally, this does not bother me, I really like this stone. I also like the Kozibe effect in the end (never used to think I would!)
To top it all off, Victor requested and was enthusiastically granted permission to name this halo split-shank style after me. So yes, on his website, you can now find the "Anne Marie" offering (!!) I was so tickled. I will be thrilled if/when another PSer ever orders this setting.
Oh yeah, I guess I should put the setting specs for those interested:
- 1.8mm halo
- 2.0mm shank (~1.6mm where it splits)
- Shallow u-cut pave
- Wire-based design (vs plate/tube)
The setting itself has ~0.87ct in it. So all together, the stone plus setting is a little under 5ct. I wear a size 4.5 ring.
One word of advice - I find having the ring wire-based makes it *feel* larger than 4.5 (slides up and down the finger so easily - so comfortable), so I will need to have it sized down a little at some point. Victor has strongly suggested laser welding, so I will have to go with that.
And without further ado, here is my ring!
Thanks for reading,
Anne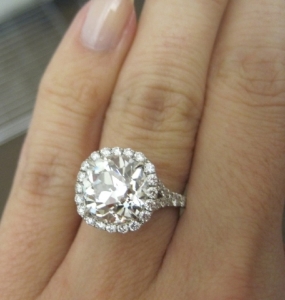 (more pics coming momentarily)