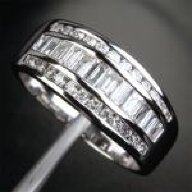 Joined

Oct 13, 2011
Messages

104
I've always washed Gemstones and Diamonds with hot water only (without soap).
But I dont feel the stones get clean enough.

But is there any better way to clean gemstones and diamonds?
I've noticed that all diamonds that get back from GIA looks flawlessy clean!
Anyone know how and what they use to clean them at GIA?

As I can see;
Some people uses Ammonia, Bleach, Chlorine, regular tapwater and/or toothpaste to clean their gemstones.
But as far as I know both Ammonia and toothpaste (contains abrasives) - both ruins the sparkle.
And regular tapwater contains Chlorine as well (in my country atleast) and when Chlorine reacts with the sun on a diamond - the diamond can get ruined for ever.

I do only got 100% unheated/untreated diamonds and gemstones, so I would like to know how to clean them without affecting their value in any way and at the same time not to ruin the color.

Please post me some ideas and/or personal experience please.

I've heard some rumors about jewelry stores using some kind of "sparkling spray" as well that reacts with the light in the store - so the diamonds look way better in the store than outside or in your regular home. Is this true? If so, which kind of spray?

Thank you!