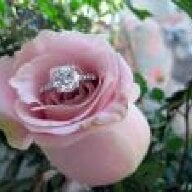 Joined

Jul 8, 2010
Messages

723
Here's my tip!

*Take Dawn (blue) dishwashing liquid and drop 2 drops in a small bowl
* Using your kitchen sink sprayer, spray very very warm water on the drops of Dawn in the bowl, so they turn into suds and gets mixed together
* Now drop your rings in the bowl and let it sit there overnight +, approx 16 hours.
* After this time, take the rings out and using the liquid in the bowl, take a small ring cleaner brush and gently brush under the diamond and the sides. I gently super gently swipe the top.
* Rinse the rings in lukewarm/warm water
* BLOT dry with a bounty or soft lint-free cloth (prevents water spots)
Super sparkly diamond revealed!
THe Dawn breaks up the oil and film on the stone. They say that oils and film gets on the stone and dirt is attracted to it like a magnet, so it's good to clean it a couple times a week or at least once a week.