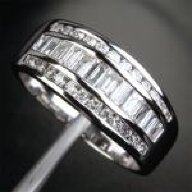 Joined

Oct 13, 2011
Messages

104
Hi.
I personally found this stone in a lake.
This stone is just above 1550 carats.
Under UV-light it does only look like a piece of "silver" with red flashes - the specimen mixed onto it looks just "baby-blue".
The stone is quite dark, black but with greenish tint to it.
I got no clue what this is. Tried to break the stone with a hammer, tried to break it with pressure/dumpster as well - no effect at all!
I have tested this stone with a Diamond tester, I also tested it with a Diamond/Moissanite tester.
Tested as a diamond - and is unbreakable whatsoever.
In the same lake I found bigger ones, but laid them back.
This was big like 2 footballs together I would say, atleast.
Weighing maybe approx. 7-8 kilograms = approx. 40 000 carats!!
If it's a Carbonado (black diamond), the 8 KG's would be worth somewhere above $62,850,000.00
So please - let me know!
Some of the ones I found in the lake was green, some was black, and some had both colors mixed.
On the bigger stones, there's some "porous" type of stone (another type) - "glued"/mixed into the stone or almost protecting it.
Any ideas?????