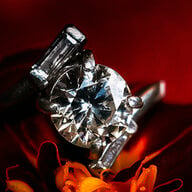 Joined

Jun 27, 2020
Messages

122
Yes, everything about my quest for this anniversary ring has definitely been a major source of stress. But my husband preferred to use a local, rather than on-line, jeweler.

Now that this jeweler finally has created a setting that I really like, the diamonds for that setting are the next hurdle. Her pricing on everything is quite high. So I really don't want to be forced to just settle on whatever she has on hand - not unless the stones have a good cut in addition to color & clarity. I want nice stones that make me happy. I'm looking at five .4 caret stones for a total of 2 carets. Little stones by PriceScope standards.

From the model that I wore constantly for 3 days, I really like the setting that the jeweler eventually created. So I can't see changing jewelers now. I want this setting!!! To change jewelers now, I'd have to then start all over & it's already taken 7 months to get to this point. I wish I could source my own stones and just have her mount them in this setting that I've worked so hard to have designed.