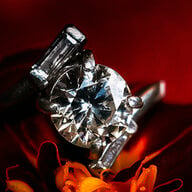 Joined

Jun 27, 2020
Messages

49
For our anniversary, my husband promised me a custom designed 3 stone diamond ring. Not really certain of what I'd like in profile design, I decided to put that ring on hold for now. Instead, I've opted to first work with a jeweler on a 5 stone bezel ring instead.


Because I wanted a lot of stone presence - but not have the stones go between my fingers - the ring designer suggested 40 points each stone for a total of 2 carets. My inspiration was a combination of vintage 5 stone bezel rings. Top bezel with delicate milgrain around the rim of each bezel. An etched floral design in the side of that top section. Then an open space with filigree. Followed by a bottom section (against the finger) being open in the back (toward the finger). I hope my description makes sense to readers.

After two months of working with a jewelry designer, we finally reached the point where the computer generated models were somewhat what I envisioned. Still, I wasn't certain enough to move forward to have the ring made. So she sent me a plastic model to look at. The model is very low set. It is lower than what I was expecting. This version would be perfect to wear as a wedding band. However, most of the detail (filigree & etching) gets lost. The filigree is there in the plastic model, but you can't really see it without holding the ring up and inspecting very closely. I was hoping to be able to see the gallery details while I was wearing the ring. In this extremely low set version, you really can't. The detail just blends in & gets lost.

I've been reading PriceScope for several months to try to get ring ideas. Most everyone seems to feel the lower a ring like this the better. Is there a reason for that? The jeweler said that she can raise the gallery but wouldn't recommend it. Her reason is that a higher bezel ring couldn't be worn with another ring.

However, I won't be wearing this 5 stone ring with the 3 stone one that I will be having made in the future. This 5 stone bezel ring will be a stand alone that can be worn by itself as a wedding band sometimes or more often as a RHR. I also envision pairing it with a skinny band ring that I would like to get to go along with the future 3 stone ring.

The height of the plastic model is currently 3mm. The general lines flow nicely. However, I can't see any of the profile details that I was hoping would make this ring a bit more special. Everything is squashed down together. To see things more clearly, the height of the head would have to be raised to create more space.

However, I'm wary of making such changes when almost everyone else seems to feel the lower the better. Is there a reason for that?

Because of the COVID situation, I can't get out to jewelry stores to try bunch of rings on to see what things may look like. Everything must be done via the Internet. That makes custom designing a ring rather difficult.

Does anyone have any suggestions and ideas that may help me? This anniversary was a very special one, and I'm eager get a new ring on my hand that I will love forever. Because I also keep my jewelry forever, I don't want to have regrets in my design choices for this ring.

Help!
.