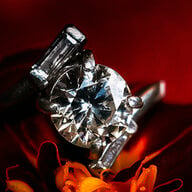 Joined

Jun 27, 2020
Messages

122
[
Ditto. You also have a wax and David could honestly easily recreate it I bet - he just made a setting for me that was inspired by an existing style and it was done in a matter of weeks with 2 rounds of CADs (they were the tiniest tweaks)
How can I contact David Klass? I'm ready to discuss having him make my five stone bezel ring. Do you have an email address? And/or phone number???
Although the local jeweler here cannot complete my ring, I got her full permission to use the design I have posted here without any changes at all. So all the stressful months I spent getting to this point won't be wasted. I can keep the design. I just need someone to execute it.
Now that I've found diamonds I like, I'm finally ready to have someone - with a verified great reputation - to turn my dream ring into reality. The local jeweler here said that I can even give another jeweler the plastic model (that she made) for them to work from.
She surprised me, but I am able to move on without any guilt.
David did your beautiful ring in record time!!! Now, I need to contact him.