Joined

Nov 18, 2016
Messages

6

Hello to the amazing PriceScope community! I have been a lurker on here absorbing info for 2 months or so, and I am grateful to all of you experts- Especially to the one they call... RHINO!! thanks for the great videos!
Anyways,
***Preface****After much research, I decided that Cut was more important to me than Color, that I was okay with going down to SI1 if needed, and that I was okay with going with to G color. I was torn between a Round for the brilliance and fire that is so common, and the Cushion cut which is my girlfriends preference according to her Pinterest. So- I found that there is a cut called Cushion Modified Brilliant, where the facet patterns look similar to a Hearts and Arrows facet pattern on Round diamonds. Price range is $5-6000 for the diamond. ****Preface
********TLDR; Long story short, I found everything that I wanted except the diamond was an H color. It faced up beautifully, and was very white without being set in the rose gold setting. Once I received it, the yellowness did bother me a bit.
Here is the diamond i bought already:
https://www.jamesallen.com/mobile/l...t/1.02-carat-h-color-vvs2-clarity-sku-1923844
Here it is set, beautiful falling edge halo in rose gold.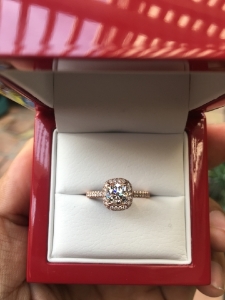 I love everything about it, except the color.

Found another diamond that is very similar, this time with 3% more table, .02 less Carats, less clarity but only a tiny mark on the face (VS1), but with G color instead of H. I know that face up you cant really tell the difference, but in different lighting environments I can see the yellowness at certain angles.
Here is the G...
[url=https://www.jamesallen.com/mo...ut/1.00-carat-g-color-vs1-clarity-sku-1923856
[/url]
Do you experts advise that the G 1. look any different set in the ring, and 2.will have similar if not better Fire and Scintilization?
I am waiting on the ASET for the G, and can post my H ASET later if needed to compare.
THANKS FOR READING MY BEAST OF A FIRST POST!
You are all awesome.
[


​