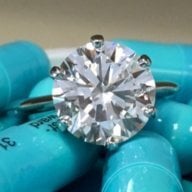 Joined

Dec 3, 2011
Messages

10,050
I feel like there have been several threads on "halo to solitaire"... but all I can find is "soli to halo" threads.
So I'm in the process of doing this, and I need all the "feel good" I can get, as this is a big (and costly) transition for me.
I love my halo, but I think the time has come for a simpler, more streamlined (i.e. "kid-friendly") setting. I'm thinking Harry Winston-esque 4 prong style with tapered baguettes, but not 100% just yet. However, I'm upgrading to a larger stone and higher color (from J to I)...
So if you've gone from a halo to soli, I'd be interested to hear what you have to say about it.
What made you change? Are you happy about it? Did it take a lot of getting used to? Do you miss your halo sometimes? Do you ever think of going back? What do you like best about your soli?
I'm looking forward to hearing from everyone! Thanks!