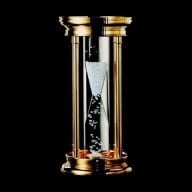 Joined

Nov 6, 2006
Messages

2,398
Date: 3/7/2007 10:55:28 PM
Author: diamondfan
Any time I have a choice between diamonds or not, I usually opt for diamonds and am not sorry I did. The exception? The Chanel white watch. With a minimal amount of diamonds the watch was more than double, and while I wanted a white watch for summer, it just seemed silly. So I got it without, and now I am sorry. Of course, it is not a tailored daily wear watch, but it has really grown on me and I am wishing I spent the additional money, even though it seemed ridiculous to me at the time.
Sounds like classic coulda-shoulda-woulda to me! Definitely something to be avoided at all costs!
Harriet, imagine if every time you looked at the watch you wished there were diamonds? It would be torture and then you'd go out and buy another watch WITH diamonds. You'll wind up spending more in the end because you didn't get what you wanted in the first place.
DF, I think we're bad influences!