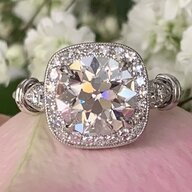 Joined

Jan 11, 2006
Messages

55,112
04diamond<3|1366672483|3432473 said:

DS- I know I've been like the biggest fan of the 2.29, but it's just because when everything else is the same, I always go for the bigger especially in diamonds!!! The 2.12 is also beautiful and it fits YOUR criteria. All that matters is that you're in love with your stone. You are going to be the one to wear it! I'm happy for you and can't wait to see your new beauty in your hands for good!
Thanks so much, 04!!! Listen, I love that 2.29, too, and if I wear the 2.12 awhile and find that I need
the 2.29, maybe it will still be there! That is the way I can look at it and not worry too much about going with the smaller one first!