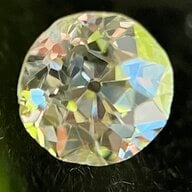 Joined

Dec 16, 2007
Messages

24,385
As many of your know, my second son, Ryder, was born in June. And so I went in search of a baby ring to commemorate his birth!
I debated many options. First, I was debating between a scattered diamond band and a thin channel set band that I could stack with my baby ring from my first son, Hunter
https://www.pricescope.com/community/threads/dreamers-baby-ring.118045/
I narrowed my choice to
Whiteflash
and Facets for a channel set band. Both companies offered excellent customer service and great prices for a 2.5mm, .40cttw, 3/4 eternity band in white gold. Leah at facets was very helpful. But I was very close to ordering from
Whiteflash
in the end, in large part because my sales associate, Sheerah, is a true doll and one of the best reps I have worked with at a PS vendor. I am a high needs client
and she never tired of me (seemingly

) or put my e-mails on the back burner. I will *definitely* be ordering from
WF
in the future. And though she might not like me suggesting this, I recommend that any of you crazy PSers who like some good TLC when shopping ask for Sheerah at
WF
as well.
I was all set to make my order from
WF
when for some unknown reason I decided to pop onto EBAY for the first time ever. I opted first to do a search for known name brands. And when I did, up popped a ring from Canadian jeweler Birks (Canadian "Tiffanys", though not as high profile; similar business model and history) that I had loved and tried on in person in the past. It is an "etoile style" half bezel design, with a thick, rounded, luxurious shank. I adore this ring. And there it was on Ebay! Even more serendipitous, the vendor was local to me.
Being a good PSer and novice EBAYer, I posted some threads seeking help and guidance, which I of course got in spades.
https://www.pricescope.com/community/threads/ebay-help.163771/
https://www.pricescope.com/community/threads/ebay-help-update.163850/
And in the end I bought the ring in person from the local pawn shop selling it!
It is a platinum semi bezel design with a .31ct G VS2 ideally proportioned diamond. The cut on the stone is fantastic, took my handy
Ideal Scope
with me to buy it of course and it looks amazing. The stone also came with a lab report from Birks confirming that the proportions are awesome, scores less than 2 on the HCA. I took it to Birks after buying it and they authenticated it as one of theirs.
But the best part is the price. This ring retails at Birks for about $4000 plus taxes
. My comparison shopping suggested a similar custom design from a PS vendor would have cost me about $2800 in platiunum or $2100 in white gold, including taxes.
I got this ring for $1235.00 including taxes.

I loves me a good deal let me tell you, so this makes me very happy.
So thanks PS for helping me get a wonderful ring at a wonderful price to represent my wonderful son!