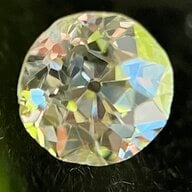 Joined

Dec 16, 2007
Messages

24,367
I need some advice!
Following this thread:
https://www.pricescope.com/community/threads/ebay-help.163771/
I offered $1075 through ebay. She countered at $1300 saying it is the lowest she can go. She will pay the sales taxes (~10%). Includes a no questions asked 14 day cash refund policy. Seller appears highly reputable. New retail on the item is about $4000, comparable from a PS vendor would be $2500 - $3000 (including taxes).
I can:
1) Counter again through ebay. Not sure its worth nit picking for a hundred bucks. In my head I was thinking $1200 would be a great price to pay.
2) Buy it through ebay.
She responded to my message saying I can come see the ring in person on Tuesday (Monday is a holiday), but in that case she prefers we just buy it from the store directly. She said the same warranty applies if I buy from the store as it would if I buy online. I would get this policy in writing if I want that route. So I can:
3) Go see it tuesday and buy in person. Benefit is seeing it first. But either way if I buy it I will take it to an apprasier to verify its quality and name brand.
What would you do?