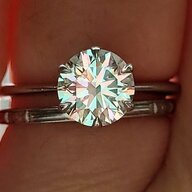 Joined

Feb 25, 2015
Messages

609
Thanks! My appointment is on Monday.

If they don't have your necklace, would you like me to ask why it is marked as unavailable on the website? Any other questions you'd like me to ask?
Oops sorry, yes Monday lol, I guess I'm in a rush for you to go!! That's so sweet of you. I'd really be curious, if one is available for you to see, how the shape is. If its a "good egg"
Maybe yes, you could ask why they are unavailable so often? Only if you have time, of course, I'm sure you have a short time slot and people will be waiting. Please spend your time ogling your beautiful future brooch! And thanks again for thinking of me!
I just thought of something...wouldnt it be something if you wound up leaving your appointment with an egg!!