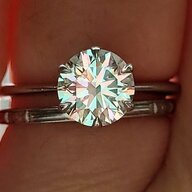 Joined

Feb 25, 2015
Messages

411
Hey

@meesmom

, what did you decide about ordering the egg? Inquiring minds want to know!
Ugh, I havent decided.
I am still waiting for my photos from Caysie of my new ring, then I'm going to decide whether or not to sell my Tiffany band, which i absolutely have to do if I'm going to buy one. The Riviere band is pretty pricey, and it was a lot to get my husband to agree to that. But I'm still on the fence, lol.