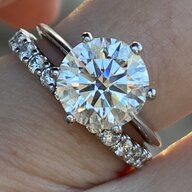 Joined

May 14, 2018
Messages

383
I purchased a diamond pre-loved that was advertised as a lab created diamond with no inscription or certificate. Upon receipt, I took it to two local jewelers:

Jeweler A is reputable, but not exactly "decorated". They inspected the diamond, tested to confirm it is a real carbon diamond, gave an opinion on color and clarity grades, and gave the opinion that it is a natural diamond and not lab created based on the inclusions, florescence, etc.

Jeweler B is an accredited AGS Gem Lab and is very highly regarded. Two gemologists there inspected the diamond: Gemologist 1, a Graduate Gemologist, tested to confirm it is a real carbon diamond and also opined that the diamond is mined and not lab created, but wanted their Certified Gemologist (Gemologist 2) to inspect it further. Gemologist 2 concurred that the diamond is a real carbon diamond and is mined and not lab created. I was told they have the tools in-house to actually test mined vs. lab. They offered to send it off to GIA for certification and will be providing a full appraisal.

So my question is this...is it possible for all these jewelers and gemologists to be wrong? I really don't care either way as it was priced very reasonably for a pre-loved lab created diamond and I will be using it for random jewelry and not anything sentimental, but I just wanted some expert advise on if I how much weight I should give these opinions.

Any and all input appreciated. Thanks!