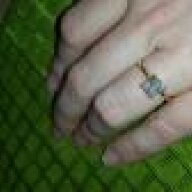 Joined

Dec 19, 2015
Messages

35
Hello All,
I have been lurking on Pricescope for months. I suspect all pricescopers have a history of lurking...guilty!. Well it is a great place so I am going to lurk away.
I am here today as I would really like to buy my first pair of stud earrings and I don't want do go wrong on this as I have in the past..with B&M shopping...which only happened once but never gain. I know I am in the right place.
So for starters, would I be better to search for my own matching pair or request the assistance from a rep at
good old gold
or other great personable diamond store?
I have read a few things in regards to diamond searches for
BN
and wondered how has experiences been with either your own hand picked search or a search with the assistance of a store rep?
Thank you all and good morning from Rochester NY!
Oh one more big question. What style cut of the rounds makes the best earrings? For my first pair I would like something I can wear everyday and just sparkle like a dream. Well why don't you all just lay it out there if you would be so kind. From experience what would you recommend for best diamond studs lay out.
Thanks again!