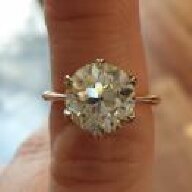 Joined

Jan 30, 2013
Messages

774
Hi all!

I'm in a quandary!

I am looking to purchase some studs around the 1.2 - 1.4 ctw range. They will hopefully be in the J, SI1 range. I am not color sensitive...E-ring is a GIA M OEC....but I would like to stay around a J for MRBs...could go to K for OECs.
I have been doing my PS research

and have read very mixed things on whether to go with OECs for studs or not. I obviously love old cuts, but am having a hard time figuring out if they will have the same impact at the smaller size or if I should go for maximum impact MRBs. Plus, tbh, it is much easier to get some matching MRBs. Keep in mind if I go with MRBs they will be uncerted
IDJ
stones. I have been exploring my options with Yekutiel and he is looking for the best cut uncerted stones he has. On the other side Adam is looking for OECs for me.
I am looking for some opinions that will help tip the scale in one direction.
Thanks!