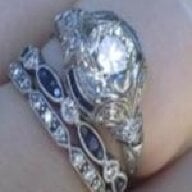 Joined

Aug 25, 2009
Messages

7,863
ruby59|1318362084|3037928 said:

Sarahbear621|1318356706|3037858 said:

ruby59|1318354018|3037818 said:

I agree with the above poster. The time to make a claim is immediately after it happens. So much time has gone by that it would be almost impossible to prove where and when the stone was damaged. I also did not realize that the OP lived in Africa. I do not know how modern a city that is and anything about their postal system, but it is conceivable that is where the damage occurred.

Right now, imo, the only way to finally resolve this is for each party to accept 50 percent of the blame and assume 50% of the liability.

Did you actually read any of the 12 pages on here where all your questions are actually answered and already debated?

And further more Africa is not a city, it is the second largest continent (First being Asia) with over a billon people living there. Sorry don't mean to jump down your throat but it is a pet peeve on mine when people do this.

As far as a 50/50 I think that is crazy and would never work in business. You can't actually think that a business or a paying customer would accept this.

Yes, I have read the entire thread. And if you had bothered to as well, you would have seen TL's excellent post, where she said there are two camps of thought, and people are going to believe what they believe. You and I are obviously not going to come around to the same way of thinking.

Thank you for the geography lesson, but I am sure I already knew Africa was a continent. Without going back through the entire thread, I could not recall where in Africa the OP lived. And while I believe you that it is the second largest continent, it is still considered 3rd world. Parts of it are modern, other parts underdeveloped. That is why I asked about specifically where the OP lived.

As far as a business accepting this, you are not talking about Walmart who will take back anything. Large companies may be able to do this, but a small company would go broke. They have to draw the line somewhere.
hmmm...well OP stated clearly in sevearl posts on sevearl pages that it never left the USPS mail system. Also stated that she and AGL didn't notice any crack. However, AG did some awsome detective work and it looks like it was cracked before it even left RH. Which is a fact that i won't bother to argue as personally I don't care how it was damaged (so yes I did read TL's post). I guess you would say that I'm in the camp that if you sell something that you say is "A" and it turns out "B" then you deserve a refund- it is just that simple. Small, Medium or Large corporations it doesn't matter. You can't sell items that you back 150% that turn out to be incorrect and then not refund or expect a partial refund.