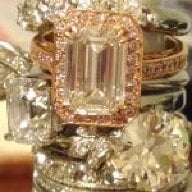 Joined

Jan 8, 2008
Messages

2,362
I need to vent.
You all probably know I am (was) a big fan of ebay. Well I'm quitting it. I was scammed. In fact I am 95% sure the person who scammed me was a well-liked pricescope member who actively posted up to a year ago (which is why I had the warm fuzzies purchasing from her in the first place). Same PS username as her paypal account, profile of gem enthusiast turned GG turned dabbler in the trade and location is the same as a location she had on a page she linked to her profile here once upon a time (not her actual location BTW).
Not only was the stone not what was stated and confirmed by a lab as such (at my expense) the lab returned the stone to her and now she has the stone and my money! She played me along giving me 110% customer service so I was completely confident my refund would be processed smoothly until it was too late to open an ebay case or leave feedback. I even confirmed with her before my purchase that I would send it to a lab and expected to return it with the report if it was not as stated. Her reply was something like, "I stand by my merchandise 150%...I always encourage my customers to get independent verification". Now she has dropped off the face of the earth after confirming receipt of the stone and telling me I'll get my refund within 7 days.
How can I make her pay for being such a horrible scumbag? Dispute is in process with my credit card but I'll still be out $150 for shipping, the lab, and my partial payment with Ebay Bucks. I've been trying to call ebay but can't find a way to do it from Johannesburg...by the time I get home I think it will be over 60 days and ebay will not have a record of the purchase.
**removed by moderator. unnecessary to the thread and not abiding by PS policies**
I will not state which member of the forum I believe scammed me since I can't be 100% sure and I have no intention of slandering an innocent party but I will reveal her ebay ID:
http://myworld.ebay.com/gemsrock2010/?_trksid=p4340.l2559
ETA- Please avoid buying from Kate Klein of Grand Forks, ND ebay ID Gemsrock2010