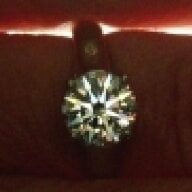 Joined

Jan 13, 2006
Messages

24,426
Date: 5/21/2009 4:24:50 PM
Author: justjulia
Skippy-sorry I missed the part about your sister having a baby. That's exciting news.

Dr- I can't imagine what it's like to watch someone lose people they knew and loved.

Ellen- I'm thnking your mom's memory is going to get the best of her, eh? That and the strong will. What a powerful combination. I recall my mother decided that she could 'barter' and get her way, as in doing bunches of leg lifts meant she could smoke one more. Kinda loopy thinkin.
But your sister allowing her to try ellipticals? Is she that intiidated by your mother? How, I ask you, can she remember that she should try something like an elliptical but not that she shouldn't try it now? Don't you just want to put people over your knee and spank them sometimes??! But you can't because they are an adult! Damn. Damn. Damn. Sometimes you just gott say 'damn!'

Your sister is going to have to learn the concept of tough love.
Yes. That's part of it, and she just plain has to rearrange her thinking. She's used to being alone, now it's like she has somewhat of an adult kid to help take care of. And, as I said, her help could be a headache.....but that's too long a story to get into. I did tell her today that we need to sit down together soon and go over things, get on the same page, have ground rules, and keep eah other informed. It's going to be interesting.... I think part of it is, she just doesn't realize how much mom has slipped. But she'll find out soon enough.
And lol, seriously, I almost
did
feel like taking mom over my knee for the machine and bucket stunts. *sigh*