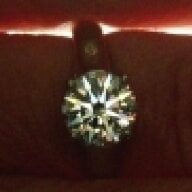 Joined

Jan 13, 2006
Messages

24,426
There have been a few posts in the past, and a couple more recently, that have prompted me to start this thread. I''ve realized that I and many others on here could use an outlet to discuss, share ideas, or just plain commiserate with one another in the daunting task of taking care of an older loved one.
I lost my dad a few years ago. Being the only sibling in town, everything about his care was my responsibility. Now, I probably wouldn''t have had it any other way, we were very close. But that''s not to say resentment towards my older brother didn''t rear it''s ugly head at times. He only lives an hour and a half away, but rarely came down, even in the end. And while I realize me being here made it much more convenient for me to do everything, it would have been nice to see him
try
to help me out more.
I am now looking at my 81 year old mother, who is legally blind, and whose memory is slipping rapidly. Our relationship has never been great. In my eyes, it wasn''t very good at all. In her eyes, I''m sure it''s much better, as I think to a certain extent, she has no idea how she has slighted me (to say the least) through the years. THIS, is one of the major problems one may face in caring for a parent. It''s not just a matter of paying the bills, making sure they remember appts., finding a place for them to live when it''s no longer feasable to have them live in their own home. There is SO much more at play than the obvious...
Right after my dad passed away, I mean within a few minutes, I left his room (in the nursing home) to go call my brother to tell him dad was gone. One of the gals who worked there came up to the doorway and said, "Ellen, I''m so sorry about your dad, you were a good daughter".
Nothing
that woman could have said would have made a greater impact, or could have made me feel any better at such a difficult time. I needed to hear that, even though that''s the last thing I was thinking about at the time.
I want to hear/think the same thing with my mother. I don''t want to feel as if I''ve failed her, even though I feel she''s failed me. THIS was a real struggle at first. (I''m sure some of you can relate) But interestingly enough, the more I help her, take care of her, the easier it has gotten. What a blessing.
And right about the time I began to realize what was happening in our relationship, I read an article that confirmed exactly what I was thinking/feeling. It''s titled "The Good Daughter", by Katie Butler, and it appears in the May issue of MORE magazine. If you can find it, it''s definitely worth reading, as it is a personal account of a daughter caring for her aging parents, and the evolving of their relationships, the struggles she goes through, etc..
My hubby was a constant sounding board through my dads last year. He loved him just like a father, as he lost his own at a young age. So he didn''t mind me coming to him with all sorts of worries and problems. He even spent many lunch hours a week in the end with him after he went in the nursing home. I will always be greatful for how he helped take care of me, and my dad. I couldn''t have done it without him.
But I can''t put that all on him again, I just don''t feel it''s fair, even though I know he would be here for me. So this thread will help me, and hopefully many of you. Please feel free to post whatever you like, all thoughts, comments, suggestions, legal info, etc. are welcome. And if you just want to whine, that''s ok too. This job can take a toll.

I''m going to list the major points Katie lists in her article, and elaborates on. While I can''t type it all out, it''s pretty self explanitory.
1. Find a sympathetic ear. (look, you already have help with the first!)

2. Acknowlege the past. (the family''s relationships)
3. Assemble a team. (if you have siblings, dole out tasks, EVEN if they are out of town. AND, don''t let brothers off the hook.

) Yes, she said that, not me!
4. Make your limits clear. (do what you can, when you can, and say no when you must)
5. Be fair about work, money and power. (this touches on compensation for the hands on caregiver)
6. Consult an elder lawyer (a lawyer who specializes in the elderly and their specific issues, not some old guy


)
I really look forward to the contributions here, I feel this thread could be a real god send to many!