I was going to wait til the next round of CADs to show you these, but what the hey. Maybe your fabulous eagle eyes will spot something I didn't. Here is my feedback followed by the CADs. Note that I asked for four split prongs - the octagon halo was gargantuan, and it think I could only achieve delicacy with hand forged. Plus I kinda fell out of like with the halo once I got the 1.5 carat.
The CADs are admittedly not there yet but they are close. I have confidence in ERD to execute this and am sooooo glad for CADs in the design process. Chris has been marvellous throughout.
1) reduce the number of melee. Specifically change trios into one single diamond, then remove one melee in the centre near the bottom set of melee.
2) reducing the number of melee should move the marquise shaped cut out up the shank, which should be visible from top down view.
3) start to taper the shank at the second grouping of melee, then keep it thin from that point on. This should reduce the amount of gold on either side of the marquise shaped cut out.
4) change basket to look like JBEG design where the prong stems meet together. Put two surprise diamonds,one on either side of base of stems like the SS profile.
5) make ring overall more delicate with less gold (hard to tell with cads though as they are always bulky)
6) make melee below the shank the same size as the smaller melee. Hard to verify but they look like same size as the larger bezel set diamonds.
7) asked them to send me engraving samples for the profile. I like how they continued the pave 3/4 way around the shank.
8.) make bottom shank open so you can see skin through marquise shaped cutouts.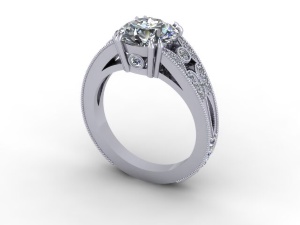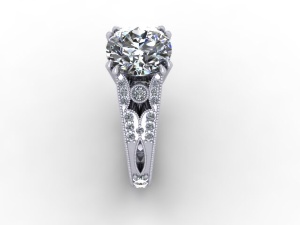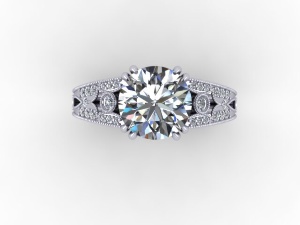 JBEG profile: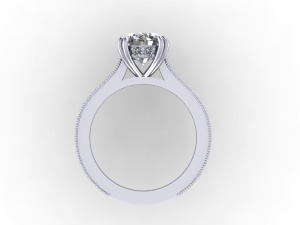 Original design: