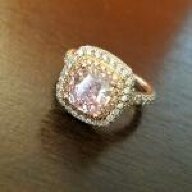 Joined

May 13, 2016
Messages

8
hi all, long time lurker & first time poster here! after perusing the PS forums religiously for the past months, FH and i (more i) have found a gorgeous diamond and designed what we (i) think is my perfect e-ring.
a bit of info regarding our GIA certified cushion modified brilliant pink diamond:
- carat weight: 1.78
- measurements: 7.47 x 7.28 x 4.29
- color grade: fancy pink
- clarity grade: VVS1
- proportions: table: 54%; depth: 59%; girdle: medium - thick; culet: none
- polish: excellent
- symmetry: good
- fluorescence: faint
even though our stone is very nicely-sized, i wanted an inner pink halo to give our pink diamond the illusion of a larger carat weight. i wanted a colorless outer halo to add to the total measurement and to make the ring look more cohesive with the rest of the ring. i also wanted a diamond encrusted look, so i asked my jeweler (local) to do a 3-row micro-pave shank and pave along the head. attached please find the first CAD that we received from our jeweler.
to me, everything about it looks pretty perfect, and there's nothing about it that i'd like to change. i do have a few questions regarding the practicality of the design:
1) i like the look of the single shank. the band currently measures 2.2 mm and the head 12.5 mm. do you think the ring would be better balanced with a split shank?
i've read so many threads about how two rings rubbing against each other will damage the prongs and/or diamonds and cause the diamonds to eventually fall out. my jeweler tells me the same thing and recommended that i solder my e-ring and wedding band together, but i'd prefer to be able to wear by band apart from the ring. FH thinks i should get a single-row pave, but i'm pretty much dead-set on the micro pave. do you think that if we change the shank to a double-row pave, it will help the situation *much*? what if we take away the pave on the bridge? i'm thinking it could act as a buffer between the band and ring, since it juts out a bit and would prevent direct contact. i'm perfectly okay with this if you think it will make a difference. i've also read people say that a spacer band (from my understanding, a stoneless, plain band) will alleviate the issue, however, i don't understand why a spacer wouldn't cause the same problems, since it will still make contact with the ring.we're willing to tell the jeweler to make the ring as-is and worry about the wedding band situation at a later time. if you could explain this to me, i'd really appreciate it.
i am more than open to questions, suggestions, and comments from the PS community about your opinions or thoughts on this ring. i truly value your knowledge and experience, and i'm very excited to continue learning about diamonds and jewelry from you.
thank you in advance for your help!