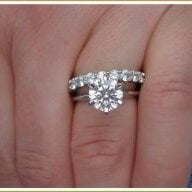 Joined

May 21, 2007
Messages

1,166
Well, in the moment of temporary insanity, I decided on a MINI upgrade. My 30th is fast approaching and I decided I needed some new bling to mark the occassion.

I drove Celina at
WF
nuts going back and forth between a shared prong bangle, then the solitaire bangle, and then talk of a pear wrap. Well, I wasn''t sure about a bracelet. I''ve never had a *nice* bracelet and so am just not sure how much I would use it......then I was set on a pear shaped wrap but quickly realized I''m no where NEAR where I WANT to be as far as the size of my center stone. (.......bless my husband''s heart....

) SO. A stone that I have seen and asked about a few times kept popping into my mind and I finally ran with it.
My current ring is the result of a ring replacement just a little over 6 months ago (the result of a chipped girdle in my original ering center stone). WF was wonderful. I originally went with BN and quickly realized my mistake not going with a company with an upgrade policy. So, switch-a-roo and I was with WF. THANK GOODNESS. From that moment on I set my sights on upgrade land.

WELL, I went ahead and in honor of my milestone bday did an "up"grade. Yeah, "up"grade. Hence the title . I''m snagging about a half a mm and dropping a color for an affordable carat weight jump.

Some, ok, MOST, may think I''m nuts. But that''s what leaving your 20''s behind does to some people I guess.

I can NOT say enough about WF for how wonderful they have been through this little "up"grade. I won''t go into details, but suffice to say that they went W*A*Y above and beyond to make me happy and to get this done. I''m not sure I''ll sleep a wink tonight waiting to get my eyes on this (I FULLY admit, I''m scared to death to see a K in person!). I''ll certainly post lots more pics when I get it. But, my excitement/anxiety has been boiling over long enough, I had to share this with my fellow PS''ers.
1.82ct
K SI2
.....all the juicy details to follow on the Sarin and GIA cert...