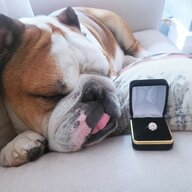 Joined

Feb 19, 2004
Messages

3,387
Have we established this as fact? Has anyone here seen a GIA graded LG diamond with what we're referring to as "Blue Nuance"



This is exactly why I will always ask to see the lab report- and also why a simple post on a blog claiming a stone is graded D by GIA showing Blue Nuance ( or other claims regarding grade, etc) is "hearsay" in a discussion like this..who knows what it is.....
The report number is listed in the post - 2406792103
GIA graded it a D. The potential buyer saw it in person and said it had Blue nuance so they didn't buy it.
eta: I also haven't seen GIA mention it on any of their reports, but we all know it exists with many HPHT stones.