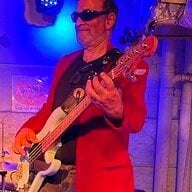 Joined

Jan 7, 2009
Messages

8,851
Hi All!
Continuing the discussion about Blue Lab Grown Diamonds:
I had an interesting visit yesterday- from a dealer of Lab Grown Diamonds.
We've purchased a bunch of colorless rounds from the guy.
I believe him to be trustworthy in regards to the goods he carries.....

Yesterday he mentioned he had some extra cheap colorless rounds- but they were a bit blue.
My ears perked up!
What was the reason?
His explanation: the goods were polished from Chinese grown rough- and due to seasonal climate issues, the rough came out with a blue tint.
It is very slight- I'll see if I can capture the color in a picture.
Is he correct?
Again, I trust the guy, but I would not be comfortable guaranteeing his answer.....but....

1) the goods are slightly blue
2) they are substantially less expensive than the colorless goods he's showed us ( about 30% less)- he claimed the tint made the rough cheaper.

I asked about Boron .....and he didn't seem to think it was possible......
So, this isn't an answer, but it does raise more questions.