Joined

Jul 6, 2018
Messages

340
Thanks for the reference

@MelloYello8

!

But ( you knew there was a but coming, right?)

I see nothing specific about blue diamonds that can illuminate the discussion.

In this first reference, they speak of "adding born to the catalyst"

Yet, there's no specificity. And current events seem to show that boron is not "controllable"

Then this next section specifies how post growth treatments are used- including blue and green.

It's quite possible I missed something...anyone else find relevant info?
I think I originally replied to this thread to point out that light blue created diamonds existed just from my anecdotal experience as an occasional but long time consumer of man-made diamonds. I've never worked in the jewelry or gem trade nor do I have any expertise in the chemical structure of a diamond, natural or synthetic. I'm just curious myself in how I may procure diamonds in shades I actually like these days. I have one lightbox blue diamond, and while the piece of jewelry is a fun design, I don't love the blue diamond itself.
What are the questions you have regarding boron in these diamonds? Whether the exact shade can be controlled to intentionally create a light blue rock? And whether it's done today?
The pamphlet makes reference to the blue color being produced during growth, and displays a Chatham diamond as an example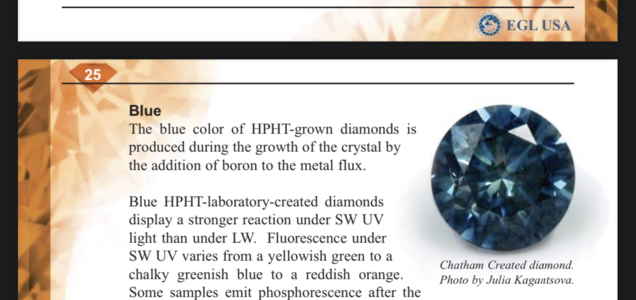 There is a vendor claiming that this can be controlled but I don't know how authoritative they are on the subject as sellers.
Have you ever heard about lab-created diamonds? If yes, then you need to strengthen your knowledge about lab-made vs. natural diamonds. Alternatively, if you have yet to, you should know what lab-made diamonds are, their features, and other required details. After reading this article, you will...
www.petragems.com