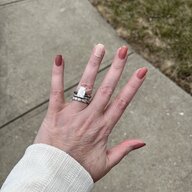 Joined

Apr 7, 2017
Messages

4,788
@diamondhoarder

I've been reflecting a little... I've wanted a Royal Asscher for many, many years and when this one crossed my path, I jumped on it even though I wasn't really planning to buy a diamond.

What I said about it likely winding up in the vault for a very long time is true however. That reality has been sinking in for me. While I'm happy to do just that and maybe pass it on as an heirloom or collectors item, it would be a shame to not see this stone set and really be shown off.

You seemed passionate about finding a RA and, if you'd like, I'm willing to pass this one forward to a good home. It's an incredible find, an absurdly beautiful stone and I got it at a great price (which I'll be willing to also pass forward). Like Karl said, this is a good one.

If that sounds interesting, let me know and I'll post it on LoupeTroop for you so we can communicate more through that forum.

The only wrinkle is that I'm not entirely sure about how one goes about shipping high-value items from the US to the UK, though this seems like a solvable issue.

If anyone knows of a secure way to go about it, please share!

...and while we're here, here's another video:
This is such a beautiful gesture. You just made my heart melt.
@diamondhoarder
, I think you found a new friend! lol!!
@Dr_Diesel
, thank you for sharing details, and contact info for Mike Asscher. I am interested in owning a RA, at some point, as well. This is valuable info for the future. Glad to know you had such a positive experience.
Thank you for posting about this beautiful RA!!!