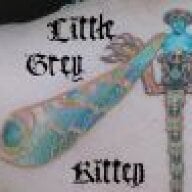 Joined

Nov 27, 2007
Messages

2,975
Yssie|1296707520|2841575 said:

Another point of interest, and I think relevant to this thread - prongs.

I had a very interesting convo w/ Leon from

WF

(not Mege!) today regarding some small adjustments to my ring.

One of the things that came up was claw prongs. My prongs are pointy, but not velociraptor-y (to misuse Deco's terminology). I confess, I have always admired those velociraptor-y prongs, and asked if they could be shaved down... but Leon noted that the thinner they are the more likely they are to loosen slightly with time and wear, and the longer and pointier they are the more likely they are to catch on things as they loosen, and the thinner they are the more likely they are to bend when they catch on things.

Seems obvious, in hindsight, but it wasn't something that I thought of when I admired those needle-thin claw prongs

I have to say - those few sentences totally cured me of my practical desire for velociraptory-y prongs. He's going to make them just a tad pointier for me.
Yeah. I have to say that structural integrity is a practical thing- perhaps something that the more practical among us consider more heavily than, say, me for example. I rarely look at a setting and wonder "huh, wonder if *that's* gonna fall apart!". Mostly I just consider the aesthetics and workmanship related to that. Frankly I thought this thread was very good- I may have to reset a stone sometime in the more or less near future and durability isn't something I would have considered enough, probably. Beyond maybe if melee is likely to fall out. But a setting like Harriet's? That, I would have thought was pretty durable, y'know?
And I also think that pics on the net can contribute to people wanting uber-delicate settings- what looks huge and clunky in an enormously magnified pic can actually be way, way more delicate IRL, and there's often no way to really know that unless you have physically tried on a setting in person. (For example standard, blobby prong ends look gigantic and fairly unattractive in pics, but I have several settings with them and they're like, what, way smaller than a poppy seed really? Hardly an eyesore.)
Victor Canera
's work, for example, looks more metal-intensive than Leon's particularly in shank thickness.... but I bet in person, his work is extremely proportional and plenty delicate- but at the same time his stuff looks designed to last a lifetime, of actually wearing the ring every day! (I'm definitely putting him on my short list of possibilities for handmade.)
But yeah- in hindsight- DUH tiny prongs might loosen more than larger ones. But the obvious can be, well, elusive to those of us (like me!) who get caught up in "oooh sparkly!"
I have no doubt that a lot of first time e-ring buyers have NO clue that PT is very bendable/malleable. There's so much bad info out there in the jewelry world, on so many subjects...