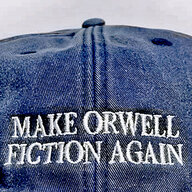 Joined

Apr 30, 2005
Messages

30,730
Lately I've noticed rings are getting thinner and thinner.
I cringe when I see how thin some people want their bands to be these days, especially when there is a big honking rock and a halo.
Here's a random vendor pic I saw posted here; it belongs to no person here.
I've notice here that buyers seem to have this black and white mentality of "Is it safe or not?"
The inconvenient truth is safety is not black and white; there are continuous shades of grey.
Mechanical failure is dependent on
2
things, not
1
.
1. The ring
2. What happens to it
A Even a
paper thin
platinum ring is "safe" if you are careful enough.
A Even a 1-inch thick solid platinum ring is "unsafe" if you drive a semi truck over it.
Buyers want thin, thin, thin, but expect safe, safe, safe.
When the ring fails while they claim they did nothing to it they are pissed.
This is not fair to the ring makers who will lose sales to the competition if they don't give buyers what they want.
I feel sorry for the vendors.
They can't win.
I also feel sorry for buyers with failed rings and no recourse.
The buyer must feel . . . if the vendor made it, then it
must
be safe.
This is an awful dilemma for both.
A poster complaining about a failed ring hurts the vendor's reputation.
Sure it IS
possible
it was thin AND defective, but there is no way to know.
It's not like some independent metallurgical laboratory is going to do an analysis and issue a report, even then wouldn't they be pressured to side with whomever is paying them?
Plus when the band is encrusted in tiny diamonds on three sides, the metal has to be even thinner to get the same thin look.
The only certainty is,
thicker is safer!
Do you think vendors should refuse to make solitaire bands thiner than X with no diamonds, Y with one row, and Z with 3 rows of diamonds?
Or should vendors make it as thin as the customer insists on, after warning them?
Should vendors then make customer sign a release from liability if the ring is thinner than the vendor's threshold?
Alternately, do you feel there is no problem here?
I invite vendors to address this issue too.