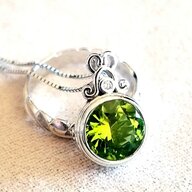 Joined

Feb 27, 2019
Messages

246
Hello! I've seen quite a few threads regarding cloudy or milky diamonds and wanted to get some input on the one that I have. My fiance purchased my setting and rock through a brick and mortar seller sometime last July. The store did not carry any diamonds in store- rather they had a "database" and would pull GIA/video/pictures and send links to my fiance and recommend stones for him. The brick and mortar seller recommended two stones. My fiance asked if it would be possible to see the stone in person first (for one of the stones, he said the diamond seller was ok with sending it out first for review. Second diamond seller said no). Unfortunately, before he could respond back, the first diamond already sold to someone else. So he was left with only a GIA report and photo to go off of. (He only proposed last month so I haven't had the ring myself for very long).
I'll have to pull the characteristics from the GIA report later tonight, but from what I can remember off the top of my head, everything rated excellent, no fluoresence, color H, clarity SI2 and comments under clarity said twining, clouds and wisps and surface graining not shown.
The very first thing I noticed when I saw the ring was - "Why is that diamond so white and milky?" He proposed outside during the daytime so there was ample sunlight. Under low light conditions, it sparkles beautifully. But here's the main problem, there are two side stones with my setting. No matter what lighting conditions, the two side stones have much more sparkle, fire and brilliance than the middle stone.
I also ran the specs through HCA last night and it got a horrifying 5.9 score.
I attached some photos for reference...thoughts? Am I just being too picky? I know my fiance paid around $8k+ for this stone.