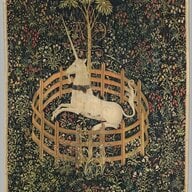 Joined

Sep 13, 2019
Messages

5,049
It has been quite the journey!
First, I started off with a poorly cut, swampy M that I thought put me off of color forever...then I ricocheted to the opposite end of the spectrum, assuming that extreme color sensitivity = I liked NO COLOR whatsoever, and I got a delightful 1.3 carat E color OEC that I happily enjoyed for 2 years.
But I realized that I wasn't enjoying the 1.3 as much as I could, because I had to squint to see the facets. Lame excuse for an upgrade, but it's true!

Much to my husband's chagrin!
The search
So I went off on my hunt. I started the search for a larger, higher-colored OEC, but after checking out a local antique jewelry shop I became smitten with an OMC. It was woefully overpriced and too small, but I couldn't get it out of my mind. But I had hardly seen any OMCs in the flesh besides this one! What was a girl to do? Why, fly to California to visit Lang Antiques, that's what!
And what a helpful and instrumental voyage that was. I had specific rings in mind (one of which was unfortunately bought before I arrived) but realized instantly on arrival that the colors were all wrong. I learned that it's not that I didn't like color...it's that I didn't like the "in-between" color range (esp K-L). My eye kept gravitating toward the lush, rich warm yellow tones on the low end of the alphabet, even over colorless. What a shocking discovery! They had a scrummy OEC I was tempted by, but no OMC that captured my heart. So...I left empty-handed! I also learned that 4+ carats, for me, was indeed too big.

Although never say never...
I reached out to Adam (a must for basically anyone hunting for an antique), and he had a beautiful, S-T color OMC that was in budget. It was MUCH larger than I was anticipating...but I had it sent to me for a viewing.
The ring
I was nervous when it arrived and tried not to conflate feelings of infatuation with real love, but the warm, luscious pale lemony golden color of this stone had me weak at the knees. How to describe it? It reminds me of vanilla, citrusy icing. It endlessly throws off soft and beautiful pastels, and now that it's set I love it even more. The bezel bumped up the contrastiness of the stone.
I'm noticing that OECs are much more photogenic than OMCs, because what I see IRL is even more beautiful. Something about OECs is really quite exhibitionistic. They are sexy and flashy and have a real WOW factor that can't be denied. OMCs have a bit more mystery and seem to unfold - they are a bit tempestuous and may try to throw you off with quirks. They are softer and subtler. But boy, I fricken' love this stone.
I chose a simple setting with a little pizzazz - adding a celestial motif to the gallery and shank design. Adam was nothing short of a delight to work with. Kind, patient, flexible...I absolutely plan to buy from him again...I'm sure I will need matching earrings or a pendant one day! Haha!
Gratitudes
A deep and heartfelt thanks to SO many people on this forum...to the friends I've made here, and to the total strangers that have been so generous, kind and have shared in the excitement!
To
@Mary Queen of Scotch
@yssie
and
@klrrrr
for patiently answering questions, tolerating rambles, ogling what felt like millions of photos, and coming along for the ride.
@lulu_ma
@elizat
@Rfisher
@Muluver
for sharing options they found, providing resources and guidance. And to everyone else who gave me advice, helped teach me how to "read" OMCs, and were cheerleading from the sidelines on this previous thread, THANK YOU:
Hey friends. Some of you know I am selling my 2 most precious rings for an upgrade! I am on the hunt for an OMC/OMB, and found some very pretty options. Buuuut almost all of the stones I like are at least SI1-SI2 (one is I1 - gasp) and have some scary plot charts. I am having a hard time...