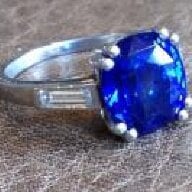 Joined

May 15, 2013
Messages

10,535
A flamboyance of flamingos is gathering on a
green and luscious island.
Warm RG and a soft colored untreated
sapphire...
This Friday I will pick up my new set of
stacking rings by Caysie with a sapphire
from Jeff Davies.
Apacherose's gorgeous set was the
inspiration for my set. I was mesmerized
by her set and asked her if she would
mind if I would have an inspired set made.
Her response was so warm and friendly.
This set is a hommage to hers.
Thank you Jeff Davies! I have not seen
the stone yet with my own eyes, but based
on the photo's I think I will love the soft
coloring. Thank you Caysie for creating such
a fabulous set! I am mesmerized by the photo's
and the craftmanship. I love the sculpted style.
Here are some glamour shots of the finished
rings. I will post some handshots when I have
the rings on my finger. Friday cannot come
soon enough...