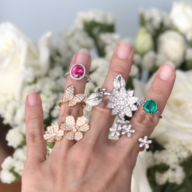 Joined

Apr 28, 2003
Messages

389
I bought my 2plus carat RB from ERD a few years ago and had it set in a solitaire. Unfortunately, DSS set in soon after especially since the stone was set really low. I also got a little bored with the simple setting and longed for something more blingy.
I worked with Mark of ERD and to be honest, like some other posters had experienced, he was sometimes responsive, sometimes not so much. However, he was very helpful and accommodating throughout this transaction and I wouldn't hesitate to work with him again.
Once I purchased the stone, I contacted Steve Kirsch to make the setting for me. Having had a bad custom experience once, I was very nervous to embark on this one. I exchanged many emails with Steven to hash out the details and not once was he short with me.
A couple of things were particularly important to me that I really wanted to get right this time, the size of the halo, and the airline (or the lack thereof). I wanted to go as small as feasible on the halo, smaller than the original HW setting, bearing in mind that this was not an everyday ring for me. And the airline, well, I just didn't want one.
I sent Steven a few photos and even though he assured me that he knew what I wanted, with no CAD, I was nervous until the very last minute. I heaved a huge sigh of relief when Steven sent me photos of my ring. It was exactly what I had envisioned. The ring IRL is beautiful and the pavework, just impeccable.
So here are the parts that went into building my 100% hand forged ring.