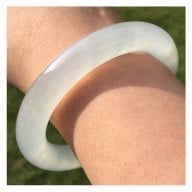 Joined

May 1, 2009
Messages

3,176
Hi, so I ended up with a beautiful 2.05 carat Crafted by Infinity diamond from HPD, and many thanks to
@LaylaR
(who patiently answered my many questions)
@Wink
@Winks_Elf
, Jamie and team HPD and also the wonderful people from Morrison Smith in Charlotte especially the lovely Samantha for making it happen.
After waffling between getting a 5 stone or a solitaire or a pear, wondering if I should go down to SI2 clarity to get the size/cut I wanted and triple guessing if a G will bother me, I'm happy to say that:
- the CBI 2.05 G SI2 diamond is a beauty. It's sparkly and fiery and as far as I can tell in the short time I've had it that it performs wonderfully in all lighting conditions.
- I seem to catch a tint of warmth in the G... so far it doesn't really bother me but I suspect that if I compare against a D or E the tint will immediately be obvious (and maybe taint the diamond from a mind clean perspective) which is why I didn't ask to compare against a higher color when I did a color test of CBI diamonds. I did look at H and I CBI diamonds and the color was obvious face up to me. Like shockingly yellow even though it's not supposed to be that way for most people as I read from PS? So sadly going down in color when DSS sets in is not an option.
- the diamond is eye clean so I don't see anything with my naked eye (and anyway I get so distracted by how sparkly it is). BUT... I do pick up the inclusions in some pics and it does bother me in a non-mind clean sort of way.
Ok so just my opinion from a fairly color sensitive, and incidentally Asian perspective in case it is helpful to anyone. Prior to this I've only ever gotten F and VS GIA graded diamonds as I did a color test many years ago and could distinguish between an E and F with some difficulty.
Oh and because there wasn't enough time to custom a setting,
@LaylaR
kindly found a Stuller setting which had the floral halo that I'd wanted and then pulled off a miracle with the HPD team to rush the setting, put in approx 0.2 ctw H&A melees (22 x 0.005ct each 1mm and 18 x 0.0025ct each 0.8mm), and set the diamond in an offset way (for the arrows) and delivered it to Morrison Smith before I flew off. It's in 18k wg with palladium.
And on to the pics!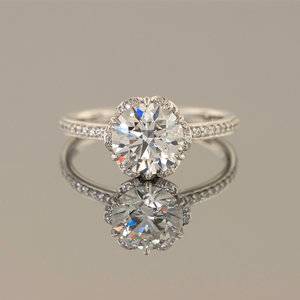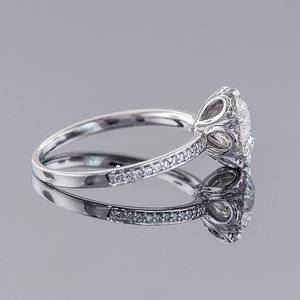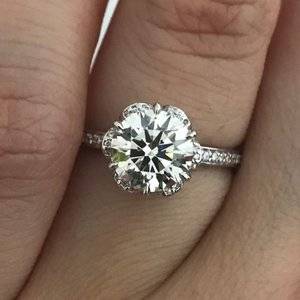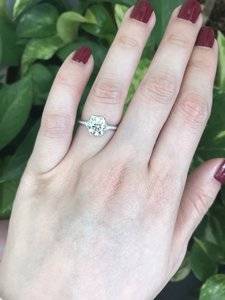 @Miki Moto
@Madsal
@Burmesedaze
@mellowyellowgirl