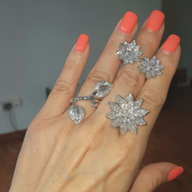 Joined

Oct 5, 2006
Messages

9,956
Re: 1.33ct Octavia - My first baby step towards a 6ct assche
tradergirl|1308102196|2946158 said:

It appears to be available for purchase again. Wonder what happened.

I would have used the 9K in the futures or currency markets and traded my way to the big rock as opposed to this plan. But I know that not everyone can or wants to do that.
Nothing really. I've had it released back into the market (as some people appear to have asked for it, despite the fact that there's a very similar stone to it, albeit a bit smaller but quite a bit cheaper). Jon is on the search for my next upgrade already and will shoot a video of the stone. I've also asked
GOG
to let some PS'ers (ie. Luv2sparkle and Asscherhalo_lover) hand-model the stone in the video.
RE futures and forex, I'm already doing them and have other plans for the funds. Thanks though!