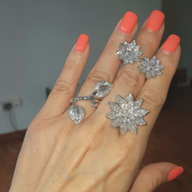 Joined

Oct 5, 2006
Messages

9,927
I recently posted a thread on my change of heart as far as cuts are concerned. I'm now lusting after a honking asscher!

. I don't know yet if it's going to eventually end up an Octavia or a modern asscher or even an antique one; but I thought this is as good a place to start as any!
So here we are, I've just acquired this baby - this is my first baby step in an upgrade program which will prob take years (my plan is to slowly trade up towards bigger and bigger stones). But hey, you have to start somewhere, right?
http://www.goodoldgold.com/diamond/7583/
Sadly, I won't be able to show you real life shots since am not taking acquisition of it (no point in paying for shipping back and forth when it's not going to be set - though I do plan to take acquisition of and set the next one/ the one after which hopefully would be in the region of 2.5ct or so). Perhaps Jon could shoot us a video of this one? [hint, hint
].